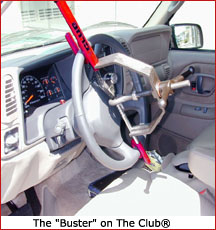 ABOUT THE CLUB BUSTER™
CLUB BUSTER™, an automotive steering wheel lock buster, allows you to "bust-off" "The Club®" and "Autolock™" type steering wheel lock devices in 60 seconds or less! Now all locksmith, automobile repossession, tow truck operator, and road side assistance professionals can take advantage of getting "in and out" of situations quickly and hassle-free. Stop turning away profitable business - a new service can now be offered to your customers.
CLUB BUSTER™ is made of 8 pounds of solid cast iron. Its quality in design and functionality is top of the line. This unique tool consists of a custom shaped bow, large hook, bronze bushing and a wing nut that provides leverage and support. Simply attach the tool snugly onto "The Club®" or "Autolock™" type steering locks and begin twisting the wing nut. Within 60 seconds, the locked bar will bend and snap in half. It does not touch the steering wheel, steering column, or come near the airbag. It's that easy.