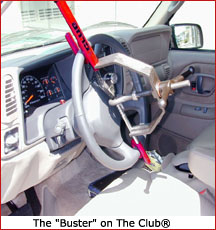 ABOUT THE "BUSTER"
An indispensable tool for the following industries:
LOCKSMITHS

TOW TRUCK OPERATORS

AUTOMOBILE REPOSSESSION PROFESSIONALS

FIREMEN & PUBLIC SAFETY SERVICES ....
CLUB BUSTER™, an automotive steering wheel lock buster, allows you to "bust-off" "The Club®" and "Autolock™" type steering wheel lock devices in 60 seconds or less! Now all locksmith, automobile repossession, tow truck operator, and road side assistance professionals can take advantage of getting "in and out" of situations quickly and hassle-free. Stop turning away profitable business - a new service can now be offered to your customers.
CLUB BUSTER™ is made of 8 pounds of solid cast iron. Its quality in design and functionality is top of the line. This unique tool consists of a custom shaped bow, large hook, bronze bushing and a wing nut that provides leverage and support. Simply attach the tool snugly onto "The Club®" or "Autolock™" type steering locks and begin twisting the wing nut. Within 60 seconds, the locked bar will bend and snap in half. It does not touch the steering wheel, steering column, or come near the airbag. It's that easy.
CLUB BUSTER™ allows you to maximize your valuable time. This tool saves time spent removing "The Club®" and "Autolock™" in traditional ways such as impressioning, picking, drilling and grinding with conventional tools. It also eliminates the high risk in potential damage to expensive car interior features such as airbags, windshields and upholstery!
CLUB BUSTER™ requires no power to operate and is backed with a satisfaction guaranteed policy. With over 30 million "Clubs®" and "Autolocks™" and millions of 'copycats' sold in the marketplace, there is no getting around the need for a quick and easy solution to remove these steering wheel lock devices.
| | | |
| --- | --- | --- |
| "One thing we don't always have is time. This tool makes sure the problem is over in less than a minute" - Ron Hertz, Professional Repossessor Magazine, August 1999 | | "...The Buster" lives up to its claims...The Buster is ideally suited for the repossession industry, where the goal is to get in and out as quickly as possible with positive results...The Buster is a viable tool that will get the job done fast". -- Test Drive, National Locksmith |